Landscaping of the territory of the Office center on the Stryjska – Naukova str. in Lviv

Project by: Urban Ideas / RUTHENIA
Project Homepage: https://www.facebook.com/urbaanideas
Project location: Lviv, Ukraine
The territory of the future office center is located on the outskirts of the city, among the areas of multi-storey buildings and today is overgrown with abandoned and unattractive thickets. However, its most attractive element is the lake and its coastal zone. 
In this project, it was very important for us to preserve the natural environment and the mood of the wild park that dominates here. At the same time, we had to provide urban comfort for future employees and visitors of the office center.
We propose to do the lake more accessible through adding wooden planks, and some of the shores are left with the natural reed thickets that grow here today. In this way, people will have access to the water and at the same time we will protect the shores of the reservoir with their vegetation and inhabitants. 
The surrounding meadows are partially cleared and planted with new trees that will grow over time and create shade and cosiness.
This area will continue to be accessible to residents of nearby neighborhoods and we offer the diversify of the functions of the park, through adding new opportunitiess for activities: to come here for a picnic, to play on childrens playgrounds, to walk along the promenade and watch waterfowl, to play frisbee or badminton. 
In this way, residents will get a park with the best preserved "wildness", and at the same time opportunities for active leisure.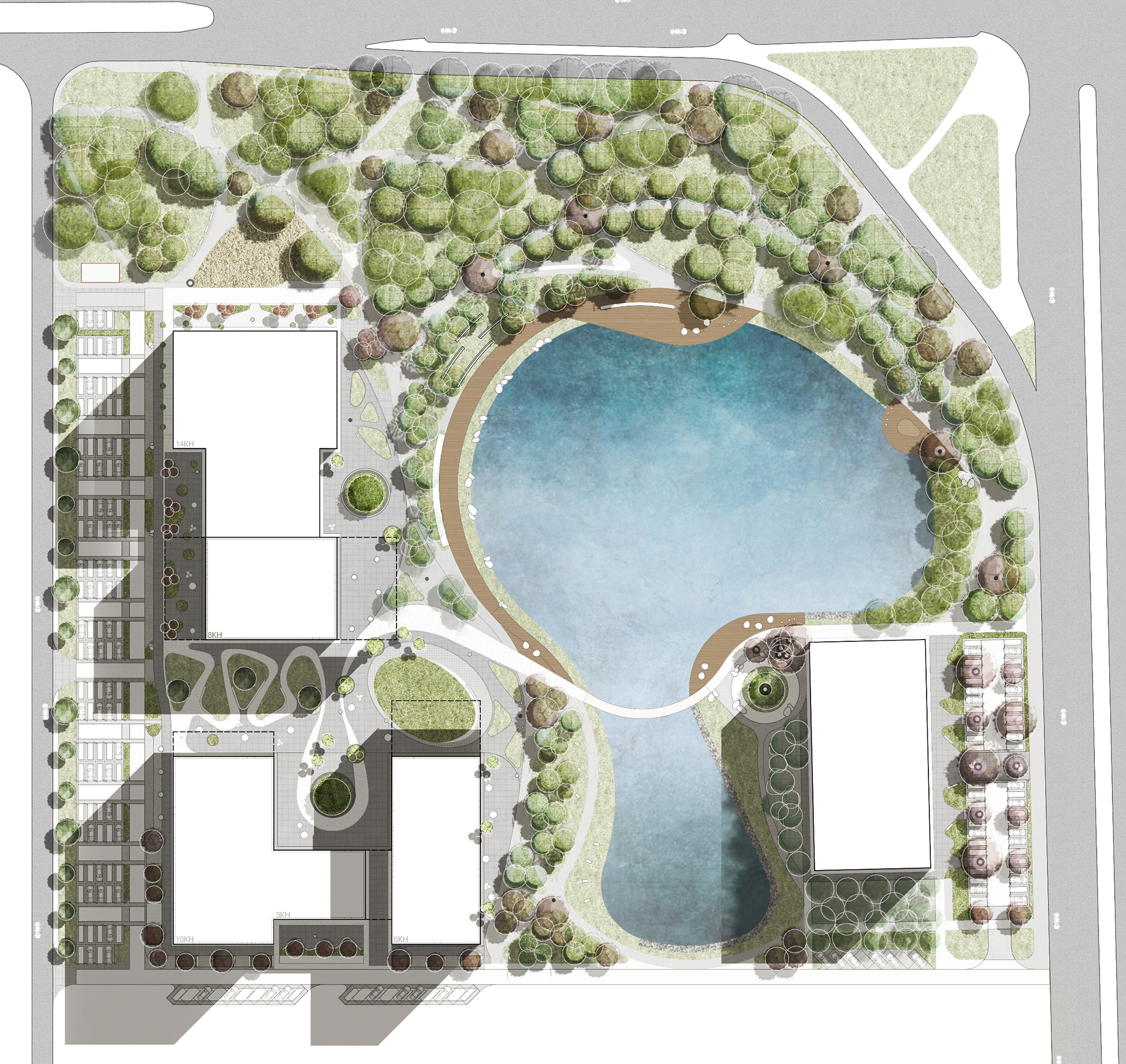 For office workers and visitors are designed cozy squares, that flow into each other, but at the same time remain semi-enclosed public spaces that differ from each other. Each such miniature square has its own character and individual landscaping. At the same time, they are green enclaves in the office slums, helping people to dissociate themselves from everyday working life.
In the landscaping project, we maintain a balance between paved and green areas in favor of natural, and for the ways as the main coating material we offer gravel paving, which fits to the semi-wild park by best way. All playgrounds also have a natural cover: pine bark mulch, and game elements are designed from wood and ropes.
Total design area: 58,000 sq.m.